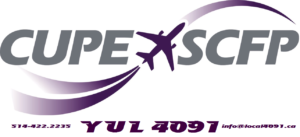 Welcome to our new and improved website!
We represent the 2000 hardworking flight attendants at Air Canada's Montreal YUL base. Together, we are committed to protecting the safety of passengers and crew and to improving the working lives of our members in an uncertain and challenging industry.
Our main objectives are to inform, guide and support you in your day-to-day lives as a YUL flight attendant!
NOW MORE THAN EVER IT IS IMPORTANT TO STAY IN CONTACT!
Union Officers can't make changes alone. We need you to let us know when things go wrong. Our union office is open from Monday to Friday and available to deal with your concerns so please call us at (514)422-2235 and leave a message or email us anytime at info@local4091.ca. When you contact us directly, we will be able to assess the situation and advise you of your rights and the proper course of action in order to resolve your issue in the most expeditious manner. Reach out to us first!